BACK TO 2 WAY RADIOS
---

Ritron PT Series

The Ritron PT Series is a full powered commercial grade radio that is available in UHF and VHF versions. The Ritron PT Series is built for the most demanding environments.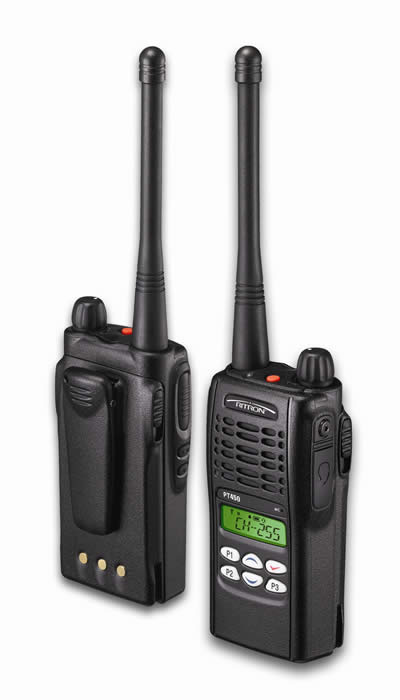 Compact and Lightweight
The Ritron PT Series is exceptionally compact, lightweight, durable and easy to use. The Ritron PT radios meets or exceeds Military Specifications as well as IP65 specifications for dust and water intrusion.

Battery, Charger and Belt Clip
The Ritron PT Series comes with a 1800 mAH Lithium Ion battery, desktop rapid rate charger and sturdy belt clip. The Ritron PT Series has a 13 hour duty cycle between battery charging.

Features
The Ritron PT Series has 255 channels, an alpha numeric LCD backlit display and can be programmed with wide or narrow spacing, 2 tone decode and 3 - 7 tone select code, DTMF, can be used with a repeater, digital or analog privacy codes, priority or regular scan and a broad range of options. The PT series radios have 9 PC programmable Function Buttons.

Clarity and Volume
The Ritron PT Series has 1 full watt of audio output for excellent sound quality and good volume even in loud or challenging environments.

Accessories
The Ritron PT Series can be equipped with ear buds, surveillance ear pieces, speaker mics, high noise headsets, gang chargers and holsters. A variety of screw on and external antennas are available. Ritron PT Series is a true replacement for the Ritron SLX.

Warranty
Radio Express warrantees the PT Series for 4 full years. Even the battery is included in the warranty. The warranty covers everything except abuse.

Application
The Ritron PT Series is ideal for any commercial application where maximum distance, durability, and advanced features like voice activation and priority scanning are required. Government, factories, industry, large facilities, airports, campuses, construction sites and security companies use the Ritron PT Series.

Specifications
Measures 4.5" H x 2.2" W x 1" D
Weighs 10 oz with battery
Up to 5 Full Watts (VHF) 4 watts (UHF) of Broadcast Power
255 Channels
1000 mW of Audio Output
13 Hour Duty Cycle between charging
UHF Frequency Range 406 - 470 MHz
VHF Frequency Range 136 - 174 MHz
10 EOC*

Price
The Ritron PT Series sells for $349 including 1800 mAh lithium ion battery, antenna, belt clip, lifetime programming, individual desktop charger, tax and UPS ground shipping.
*EOC = Relative value for Ease of Carry

Copyright © 2022 - 2 Way Radio Express.
All rights reserved.
Sitemap | XML Sitemap | Privacy Policy