BACK TO 2 WAY RADIOS
---
Are you looking to improve safety, efficiency and productivity at your construction company? Call 239-572-2811 now to learn more about the ICOM Lite or to schedule your Free 7 Day Trial.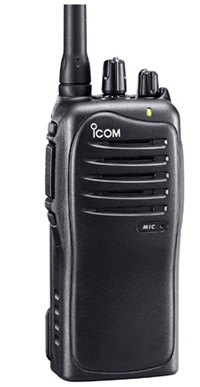 ICOM Lite

The ICOM Lite is used on construction sites all over the USA. The ICOM Lite is a full powered commercial grade radio that is available in VHF and UHF versions. The ICOM Lite is built for demanding environments. The US Military chooses ICOM radios because they are reliable and easy to use.

Compact and Lightweight
The ICOM Lite has an aluminum chassis and tough polycarbonate casing for exceptional durability and lightweight. The ICOM Lite is a full featured radio that meets or exceeds Military Specifications and is IP54 rated for water resistance.

Battery Charger and Belt Clip
The ICOM Lite comes with a 2000 mAh long life Lithium Ion battery, desktop rapid rate charger and sturdy belt clip. The ICOM Lite has a 16 hour cycle between battery charging.

Clarity and Volume
The ICOM Lite has 500 mWatts of audio output for excellent sound quality and good volume even in loud or challenging environments.

Accessories
The ICOM Lite can be equipped with ear buds, speaker mics, high noise headsets, gang chargers and holsters.

Warranty
2 Way Radio Express warrantees the ICOM Lite for 4 full years. Even the battery is included in the warranty. The warranty covers everything except abuse.

Application
The ICOM Lite is a favorite radio on construction sites because of its durability, long duty cycle battery, compact size, light weight and robust sound quality.

Specifications
Measures 4.7" H x 2.1" W x 1.2" D
Weighs 10.6 oz with battery
Up to 5 Full Watts (VHF) 4 watts (UHF) of Broadcast Power
16 Channels
500 mW of Audio Output
16 Hour Duty Cycle between charging
VHF Frequency Range 136 - 174 MHz
UHF Frequency Range 400 - 512 MHz
11 EOC*

Price
The ICOM Lite sells for $289 including 2000 mAh lithium ion battery, stubby or regular antenna, belt clip, individual desktop charger, tax and UPS ground shipping.
Call 239-572-2811 now to learn more about the ICOM Lite or to schedule your Free 7 Day Trial.
*EOC = Relative value for Ease of Carry

Copyright © 2023 - 2 Way Radio Express.
All rights reserved.
Sitemap | XML Sitemap | Privacy Policy