Most commercial grade two way radios use Nickel Cadmium (NiCad) Nickel Metal Hydride (NiMH) or Lithium Ion (Li-Ion) batteries. Additionally the shape, size and specification on each radio's battery is different. There are a few batteries that work on more than one model radio however typically there is very little cross use of batteries. Consequently there are 100's of different replacement batteries available to fit the 100's of different brand and model radios.


2 Way Radio Express offers replacement batteries for most brands and models in either a aftermarket version or the original manufacturer's version. Give us a call at 239-572-2811 and we will let you know the best value for your specific radios.







Two Way Radio Accessories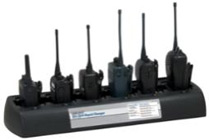 Two way radio accessories extend the life of your equipment, let you talk further, help you hear better, provide more privacy and help make you more productive.

2 WayRadio Express sells gang chargers, earpieces, headset, speaker mics, holsters and specialty antennas for most every brand and model radio. Give us a call at 239-572-2811 and we will help you find the best value in commercial grade two way radio accessories.
Automatic External Defibrillator Batteries
Defibrillators save hundreds of lives every year. Golf courses, schools, public buildings and factories have used on site Automatic External Defibrillators (AED) to save the lives of patrons, employees, students and other workers.
We do not sell Defibrillators but we do sell replacement and spare batteries for these devices. We warranty our defibrillator batteries for a shelf life of 5 years or for 2 years from the date of installation into an AED.
It really makes sense to have a spare defibrillator battery on the shelf right next to your defibrillator.
Let us know the brand and model AED you have at your location and we can provide the all the details on the appropriate replacement battery.

Copyright © 2023 - 2 Way Radio Express.
All rights reserved.
Sitemap | XML Sitemap | Privacy Policy