BACK TO BATTERIES & ACCESSORIES
---
Shoulder Style Speaker Mic



Our shoulder style speaker mics are durable and ideal for loud environments. Shoulder style speaker mics also extend the life of your radio. Because the speaker mic puts the sound closer to your ear and allows you to hear and broadcast without removing the radio from your belt radios are less likely to get dropped or lost.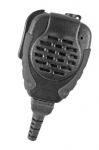 Most of our shoulder style speaker mics come with a full 2 year warranty.
We sell both lightweight and heavy duty versions for most make and model radios.
Water resistant, water proof and intrinsically safe versions are available.
Our shoulder style speaker mics meet or exceed Military Specifications and IP ratings.
Most heavy duty speaker mics sell for around $60.
The Watchdog is a multi-function commercial grade speaker mic, audio/video recorder and high resolution camera with a 2" LCD display screen. The Watchdog replaces current speaker microphones. Activated with the click of a button The Watchdog speaker mic collects full-round evidence during law or security enforcement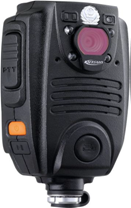 reconnaissance. The Watchdog protects documentation security as only designated personnel have the authority to read, copy, or delete data. This feature ensures the integrity and safety of the evidence collected. The Watchdog Speaker Mic meets IP54 standard. The large PTT switch is convenient to operate even when wearing gloves.The built-in 2100mAh Li-poly rechargeable battery ensures 4.5 hours continuous operation. Large storage capacity of 8G/16G/32G is available to meet the desired application. The Watchdog provides convenience when working in a dark environment as the built-in infrared LED light automatically opens in low light conditions. The Watchdog is compatible with Motorola, Kenwood, ICOM, Vertex, HYT and Kirisun radios. The Watchdog sells for $499 including speaker mic, battery, charger, 1 year warranty and shipping. The Watchdog is ideal for law enforcement agencies or campus security.
Call us at 1-239-572-2811 for help with your specific questions or visit our Radio Questionnaire page.

Copyright © 2023 - 2 Way Radio Express.
All rights reserved.
Sitemap | XML Sitemap | Privacy Policy